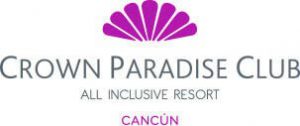 All-Inclusive Crown Paradise Resort Cancun
Enjoy the Experience
Escaping to Cancun is like visiting paradise. Its crystalline beaches, white sand, and ancient Mayan mysticism make it one of the most alluring and beautiful places in Mexico.
Framed by oceanfront views and beautiful gardens, Crown Paradise Club All-Inclusive Resort Cancun offers a fun, family-friendly getaway, where warm hospitality and personalized attention to detail come together for an unforgettable experience.
As one of Cancun's premier all-inclusive resorts, we provide dedicated areas for both children and adults, where everything is taken care of before you arrive. From a diverse array of restaurants and exhilarating recreational activities to an aqua park and safe, supervised clubs for babies, kids and teens, we offer wonderful amenities for guests of all ages.
Contact us today to book your next stay at Crown Paradise Club! 
__________________________________________________
** EXCLUSIVE BONUS **
Complimentary iFLYSmart Healthy Travel Kit
We want to help you minimize risk and reach your destination as happy and healthy as possible!
The Healthy Kit includes:
Antiseptic wipes (8 counts)
Hydrating facial wipes (5 counts)
Face mask
Headrest cover
Lip balm (0.15 oz)
Sleep mask and Earplugs
Didn't book your vacation with us? Simply stop by one of our locations with a copy of your international flight reservation for a complimentary kit as well, and keep us in mind for your next adventure!
__________________________________________________